A crowd erupts in a loud cheer and applause as I finish my "big finish" scream at the end of a cover of AC/DC's "Long Way to the Top (If You Want To Rock 'n Roll"). Most people aren't expecting to hear AC/DC covers by a guy playing a solo acoustic gig, let alone with the timbre and energy that emulates Bon Scott, the rock band's original singer. "Thanks," I say into the microphone with a wry smile. The crowd is singing along, dancing, and most importantly – not leaving! The tip jar is filling up money as I am in subtle disbelief that I get paid for doing this. It's a good night as an entertainer.
One year earlier…
My hands were trembling. My voice, normally confident as a public speaker, was weak and shaky as I attempted to sing in front of people. Real, live, breathing people! Some were staring back at me, but most were barely paying attention. I'd struggle to get to the end but was rewarded with staggered, supportive claps from the patrons at The Tavern's open jam night.
It's cliche, but a huge difference can be realized in twelve months.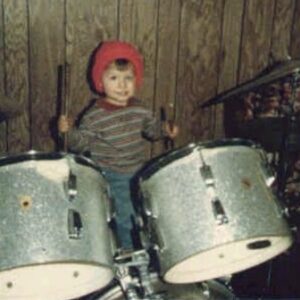 I've always had music in my blood. Growing up in a musical family, my mom and dad were in a band together before I was born. Dad continued to play drums with a band on the weekend. Mom taught music and piano lessons. The house was always filled with drums, guitars, keyboards, and amplifiers. I learned how to play drums as a little kid and stuck with that into adulthood.
In college, my number one goal was to start a band. Looking back, I'm impressed by my own 18-year old ambition. As I walked into the classroom for my first collegiate class, I scanned the room and noticed a guy with long sideburns and a picture of a guitar on his notebook. "He's gotta be a musician!" So, I sat next to him and asked if he wanted to start a band. He played bass and said he would jam. A few minutes later, someone behind us overheard our pre-class conversation and said that a guy on his dormitory wing played guitar and would probably join, too.
A day later, I was walking down the hallway of another dorm and heard someone playing Metallica songs on guitar through the closed door. I knocked and a girl answered. It was her boyfriend playing inside. I asked if he wanted to play in a band. Like the others before him, it was a quick yes. And, just like that, my mission was complete. I had a band.
[I'm still in the process of writing this story. Ha! So come back when it's finished!]