Uniquely experienced to make your business come alive online – via website design & social media management.
It's almost a necessity to have a digital presence for your organization or business today. Websites and social media are critical methods of communicating with your audience.
Social media can seen easy on the outset for many, but to do it well requires a level of expertise and attention to detail. Video, photography, creative writing, and analytics all play a role in crafting the message and tone that you're ultimately looking for. Even if you have that figured out, it takes time and sometimes the right equipment.
With an extensive background in many business sectors (media, tourism, food service, real estate, auction, retail, event/experience, agriculture, sports, and manufacturing) Dan Moris has the award-winning experience to understand your key messaging and help you create a social media presence to be proud of.
Past & Present Social Media Pages Managed: Prairie du Chien Tourism, Kramer Real Estate & Auction, Halls of Terror Haunted House, Sharing Spaces Kitchen, Country on the River, Rock on the River, Opportunity Center, Prairie Street Farmer's Market, Nice Guys & The Dirty Mind (band), Bloomington Park Little League, PdCToday, and more.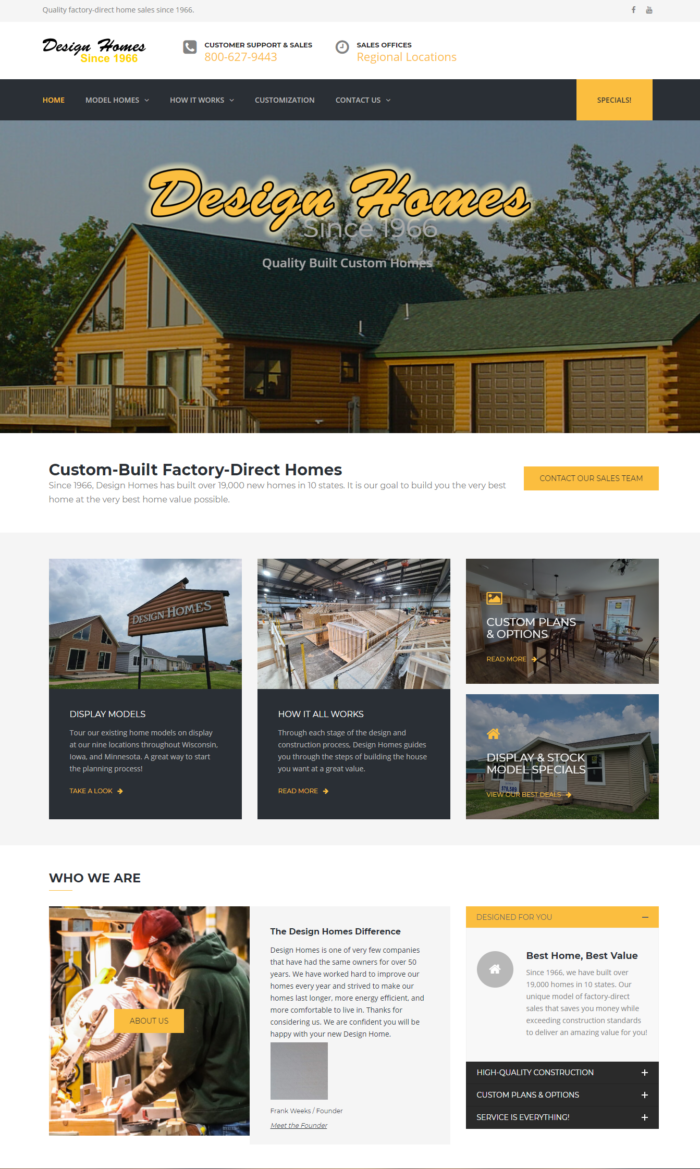 Design Homes
Factory-Direct Home Builder
Overview: The primary goal of the website was to modernize their website both visually and structurally. A highly visited and promoted site, user functionality is critical. Optimizing the website for mobile devices, ease of navigation, and updated photography and video were key elements of this redesign. 
A large website, it features all of Design Homes' display models at their regional locations, comprehensive home buyer's guides, visuals for selecting options, as well as many other elements to promote sales and quality products.
Unique Features: This is a living, breathing website in many ways, requiring regular updates and attention. It was specifically developed with the foresight and flexibility to manage updates for years to come.
Developed: March 2021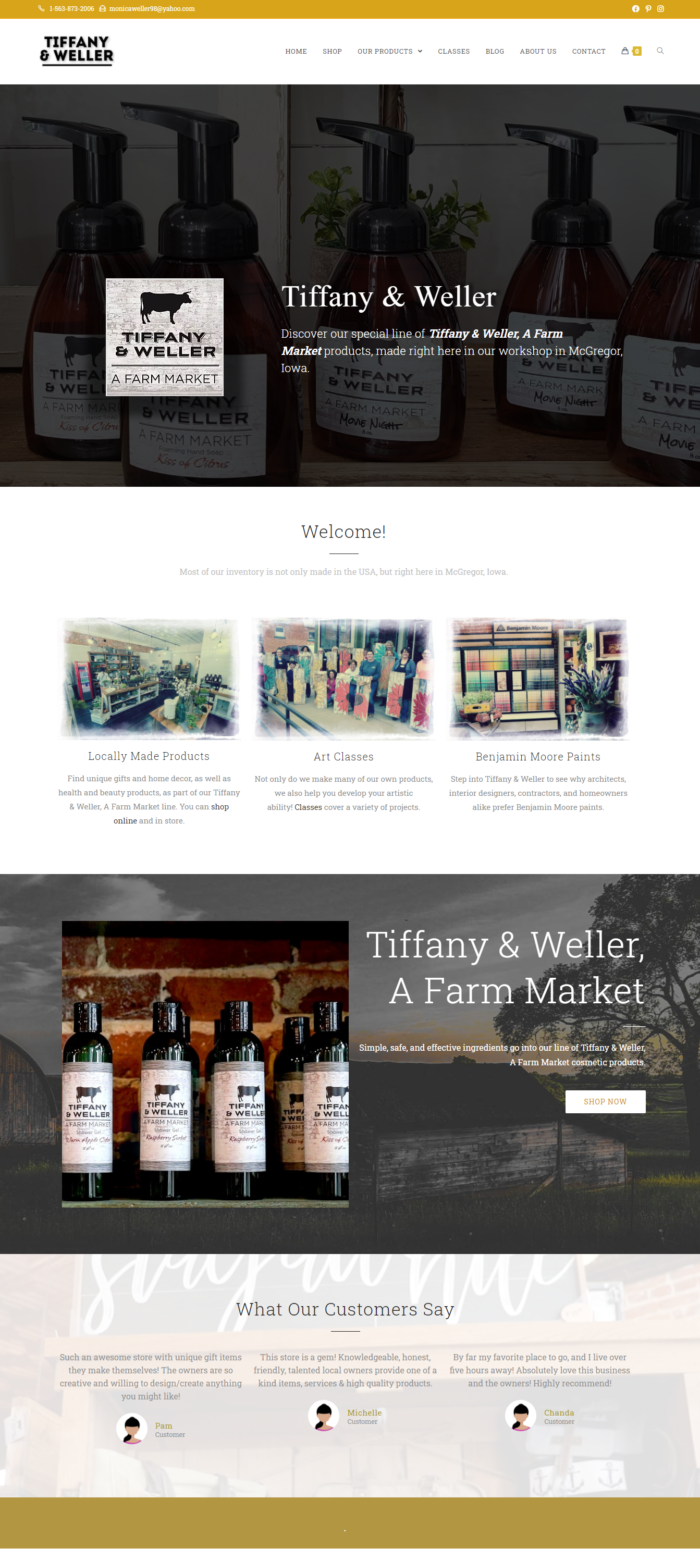 Tiffany & Weller
Retail Business
Overview: Tiffany & Weller began as McGregor Mercantile. As they increased their line of their own health, beauty, and home decor products, their business identity evolved into bringing that brand to the forefront. The site features a shopping cart with an easy-to-use management platform that allows for efficient online order processing and fulfillment. 
Unique Features: The shopping cart allows this website to generate income via online sales of their Tiffany & Weller line of products. The site is set up to accept credit/debit card payments, deposit money into a bank account, track order fulfillment progress, and also interacts seamlessly with shippers (like UPS) to print labels and send tracking information to customers.
The site also underwent a transition from their previous domain name (mcgregormercantile.com) to a new one (tiffanyandweller.com) with no downtime for their site or shopping cart.
Developed: May 2020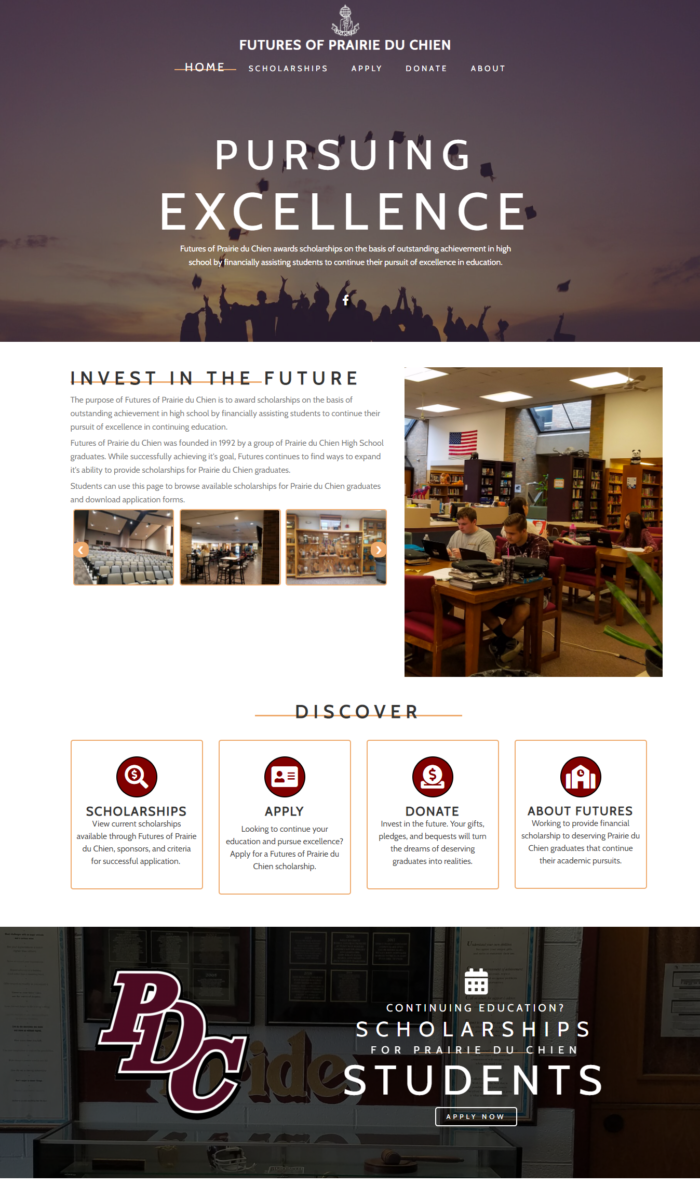 Futures of Prairie du Chien
Scholarship Organization
Overview: This project was a redesign of their existing website to modernize the look, make it mobile-friendly, improve search engine optimization.
Unique Features: This website also includes the ability to accept donations online, depositing donations directly into the organizations bank account and keep track of donors without any additional work on their end.
Developed: February 2021